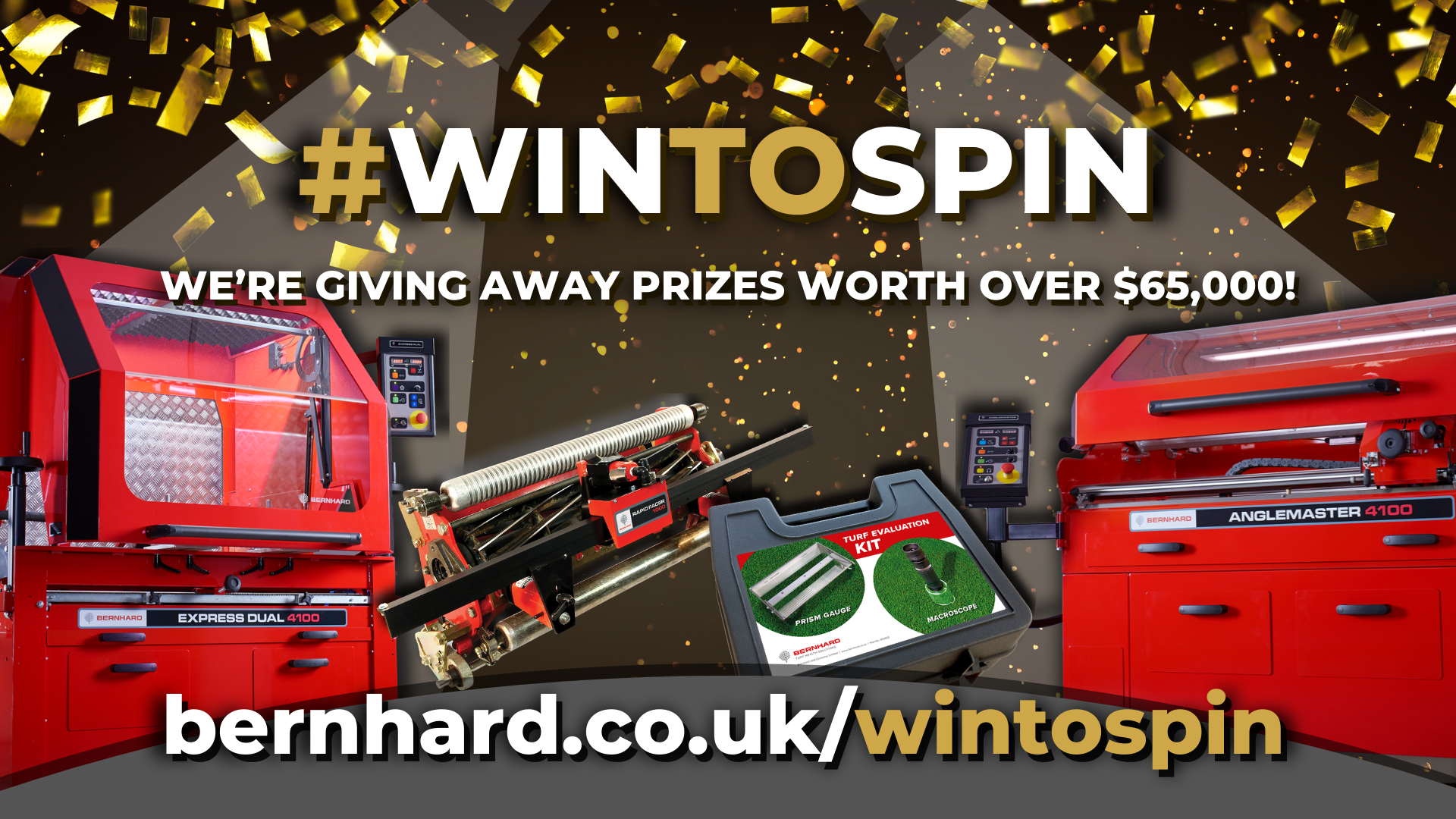 1. Who can enter:
Prize draw is open to turf professionals entering on behalf of their company operating in the fine turf industry and registered in the United States of America or Canada. Individuals who register on behalf of their business must be 18 years or over only, excluding employees of Bernhard and Company and their distributors/dealers, their immediate families, and anyone else professionally connected with the prize draw.
2. Opening/closing date & time:
Prize draw closes for entries via website form at 12:00pm (GMT) on Friday 6th March 2020.
Any social media posts after 12:00pm (GMT) on Friday 6th March 2020 will not count towards the "Boost your chances of winning!" and will not be counted as extra entries.
3. Winner selection & contact:
The draw will take place within two weeks of the closing date and time and will be announced on the Friday 13th March 2020 at 3:00pm (GMT) with it being announced on our live Instagram story - @BernhardCompany but also with a video uploaded on our Twitter account - @BernhardGrinder
Subject to eligibility and compliance with all applicable terms and conditions, the first entry drawn at random from all eligible entries will win the main prize of the Express Dual 4100 in addition to the Anglemaster 4100.
Runner up prizes will also be announced on the live draw with the 2nd entry drawn winning the Rapid Facer 1000 and the next 5 names drawn will win a Turf Evaluation Kit containing a Prism Gauge and Macroscope.
4. How to enter & cost of entry:
Entry is completely FREE of charge.
To enter into the draw you must fill out the form on this website - https://bernhard.co.uk/wintospin and submit your details. This will count as one entry.
To increase the chances of winning and add another entry you must be following @BernhardGrinder and we will be checking this between the competition deadline and the date of the prize draw (Friday 6th March 2020 and the 13th March 2020).
'Retweet with comment' on our tweet with a picture of your workshop/grinder using #WinToSpin whilst mentioning 2 other turf professionals in your post will equate to an extra 3 entries into the draw.
The maximum entries per individual is 5. The maximum entry per organization is 20. Any attempt by any participant to obtain more than the stated number of entries by using multiple and/or different identities or Twitter accounts will void that participant's entry.

5. Prize:
The winner of the Express Dual 4100 and the Anglemaster 4100 will also be invited to travel to the Bernhard Academy, Unit 11, Homefield Road, Haverhill CB9 8QP, England to visit the factory facilities and experience the machines being built. Bernhard and Company will pay for the flight, accommodation and transport in the UK, but the winner is responsible for all other travel costs associated with the trip. The delivery cost of the machine will also be covered by Bernhard and Company.
All prizes are non-transferable, non-negotiable and no cash alternatives will be offered. No purchase is necessary to enter any prize draw or competition from Bernhard and Company but by entering the prize draw or competition, the entrant agrees to these terms and conditions.
Prizes are for the organization use only and are not for resale for a minimum of 24 months from the date of delivery.
6. Data Protection:
When you enter a competition on our website, we gather your data as it is important to us, and we understand it's important to you.
Bernhard is committed to safeguarding your information in line with the latest data protection and privacy laws. We also want to be transparent about what information we collect about you, how we use it, and how you can control what we do with this information. We use this information we collect in relation to one or more of our products and services to provide or inform you about other services and products which may be of interest to you.
7. Further information
Bernhard and Company accepts no responsibility for failed entries due to technical fault, entries that are lost, delayed misdirected or incomplete or cannot be delivered or entered for any technical or other reason. Proof of delivery of the entry is not proof of receipts by Bernhard and Company.
Bernhard and Company reserves the right to disqualify entries should they not adhere to the full terms and conditions.
The machines will be delivered as a pair to one location and is subject to stock availability and lead times. Flights and travel arrangements will have to be booked with at least 6 weeks notice.
The winner may be required to take part in promotional activity related to the Prize Draw and the winner shall participate in such activity on Bernhard and Company's reasonable request. The winner consents to the use by Bernhard and Company and its related companies, both before and after the closing date of the Prize Draw for an unlimited time, of the winner's voice, image, photograph and name for publicity purposes (in any medium, including still photographs and films, and on the internet, including any websites hosted by Bernhard and Company (and its related companies) and in advertising, marketing or promotional material without additional compensation or prior notice and, in entering the Prize Draw, all entrants consent to the same.
Bernhard and Company accepts no responsibility for any damage, loss, liabilities, injury or disappointment incurred or suffered by you as a result of entering the Prize Draw or accepting the prize. Bernhard and Company further disclaims liability for any injury or damage to your or any other person's computer relating to or resulting from participation in or downloading any materials in connection with the Prize Draw.
Nothing in these Terms and Conditions shall exclude the liability of Bernhard and Company for death, personal injury, fraud or fraudulent misrepresentation as a result of its negligence.
Bernhard and Company reserves the right at any time and from time to time to modify or discontinue, temporarily or permanently, this Prize Draw with or without prior notice due to reasons outside its control (including, without limitation, in the case of anticipated, suspected or actual fraud). The decision of Bernhard and Company in all matters under its control is final and binding and no correspondence will be entered.
Bernhard and Company shall not be liable for any failure to comply with its obligations where the failure is caused by something outside its reasonable control. Such circumstances shall include, but not be limited to, weather conditions, fire, flood, hurricane, strike, industrial dispute, war, hostilities, political unrest, riots, civil commotion, inevitable accidents, supervening legislation or any other circumstances amounting to force majeure.
The Prize Draw will be governed by English law and entrants to the Prize Draw submit to the exclusive jurisdiction of the English courts.
8. Promoter:


Bernhard and Company, 188 Bilton Road, Rugby, Warwickshire, United Kingdom CV22 7DT